Mouthguards are compulsory for all Baulko players. But not all mouthguards are created equal.
Call ProDental Baulkham Hills on 9639 9555 to make an appointment.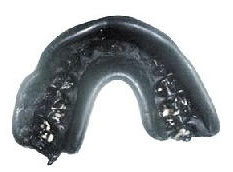 The Australian Dental Association has said that the over-the-counter "boil and bite" mouthguards can actually do more harm than good.
In an article on the ADA website, they say "They do not protect the teeth, are loosely fitted, impede breathing and speaking, and can even wedge in the back of the throat at impact which could be life threatening."
Baulko coach, Damian Phillips, has first hand experience of this, after seeing a teammate nearly choke to death on a cheap mouthguard during his playing days.
He says, "There is absolutely no excuse for children not to have a proper custom-fitted mouthguard. Our partner, ProDental, will supply a professional-standard mouthguard for no cost if you have private insurance, or at a minimal cost if you don't."
ProDental are in Stockland Mall in Baulkham Hills, right at the entrance closest to Woolworths. A range of classic colours is available at no cost for insured patients, or for a few dollars more, you can choose custom colours and stripes.
Mention that you are a Baulkham HIlls AFC player when you make an appointment.
Call ProDental on 9639 9555 to make an appointment.