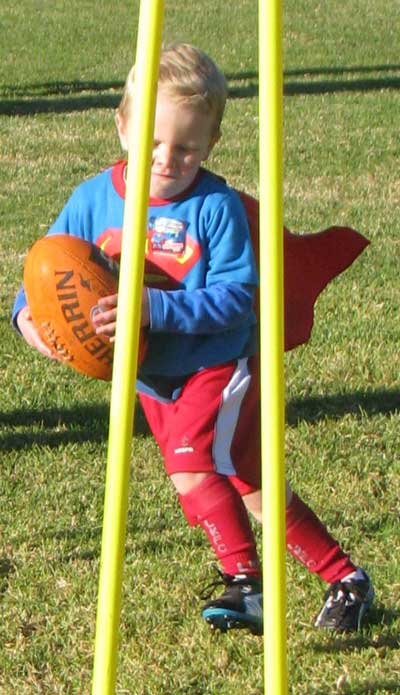 The heroes of tomorrow are in training at Baulko
Our Auskick program aims to teach kids footy skills in a fun environment. Our Auskick program is split into two key groups – our Auskickers and our Under 8s Auskickers. Each of our Auskick groups have a program that run from 8:30-9:30 on Sunday mornings. Each session starts with a warm up then we split into groups for fun skill development and finish the session by putting our new skills to use in a modified game. 
Our 2023 season starts in April with breaks during the school holidays. Sessions are held on Sunday mornings at Charles McLaughlin Reserve, Baulkham Hills. You can join in at any time throughout the season so come on down and have a kick and try it out. Uniform is optional for our Auskick program and while some future Footy superstars enjoy having their first pair of footy boots, others are just as comfortable in their regular sneakers.
During the year, we have a few highlights to our Auskick season including: 
Half time Auskick at the Giants games

– our kids get to strut their stuff playing at Spotless Stadium during the half time break of a Giants game.

Gala Days

– throughout the season we have the opportunity to particpate in a couple of Gala Days. 

Parent Level O 

– our local AFL Development Coordinator runs a free 'O' level coaching course for us at Charlie so parents can learn the core skills and coaching drills used at Auskick. Parents will be notified of this course date in the lead up to the start of the Auskick season. 
Parents vs Kids – Throughout our Auskick season we enjoy an opportunity to see both parents and kids out on the field together. 
Grandparents Week – We welcome our Grandparents or special relatives to join us one Sunday during our season to engage in Auskick. This week is always enjoyable because we often see 3 generations out on the field together!
Theme Weeks – throughout the season we host fancy dress Auskick – usually featuring superheroes. We encourage our Auskickers and their families to dress up and we award prizes for best dressed!
Under 8s
We separate our older u8 Auskickers into their own dedicated group each Sunday. Prior to the commencement of the Under 8s season, all kids will be at Charlie for Auskick. Our Under 8s will always work with their own coaches to begin to develop team work and game play skills on top of the regular Auskick program. 
The Under 8 competition is an extension of the Auskick program and involves playing games against other local Auskick centres each week. These games are normally held between three clubs on a rotating schedule. This includes some travel to clubs in Blacktown and Kellyville as well as games at home. The under 8 competition is aimed at older Auskickers looking for more structured games and provides a transition path to full competition (note the age is a guide – players may be a little younger or older than 8).
The games are Auskick style – no tackling, players stay in zones, coaches help on the field to game flowing.
Clothing/Uniform
We have a club uniform that many of our kids like to wear but it is entirely optional – our Auskickers just need to be in comfortable clothes.  They must have sneakers on as we need to protect their feet while kicking balls (or they can wear footy boots if they have them).
(If you are interested, Uniforms are available from our online shop: https://www.baulko.org.au/shop/)
Cost
The cost for the season is $100 which covers the weekly sessions and their Auskick pack (mailed by the AFL and includes a football and other goodies. Registration needs to be completed online and the pack will then be shipped direct to the Auskicker.
We are quite happy for kids to come down and try a session before signing up – just check in with our manager or one of our coaches (wearing red Auskick shirts) and they will get your little one into the right group.
If you have any other questions, please call Luke on 0408 680 826 or send an email (auskick@baulko.org.au).
Hoping to see you and your little ones at Charlie!
To register, click on the button below:
AUSKICK REGISTRATION